I knew Harriet Boorhem was a handful the first time we met.
"I hear you don't like cursing in books," she said. "I've got a lot in my mine."
And so it began: our nine-month collaboration to publish her raucous memoir, The Year of Grace. It's an honest, unfiltered look at a family coping with dementia. And by the time we were done, we settled on an unlikely subtitle that included cursing – but that I agreed was fitting.
You see, Harriet's relationship with her dad had been tenuous at best and non-existent at worst. When she got a call to join her rotation of siblings in taking care of her father with dementia, she decided two things. First, she'd ask him everything she ever wanted to know but was afraid to ask. And second, she would let him eat and do whatever he wanted whenever he wanted as long as it didn't kill him. 
The Year of Grace recounts a year of sacred conversations, painful moments, and hilarious adventures for Harriet and the Boorhem siblings. From the tragedy emerged a profound opportunity for Harriet to mend fences, love in new ways, and dig deep into her inner strength.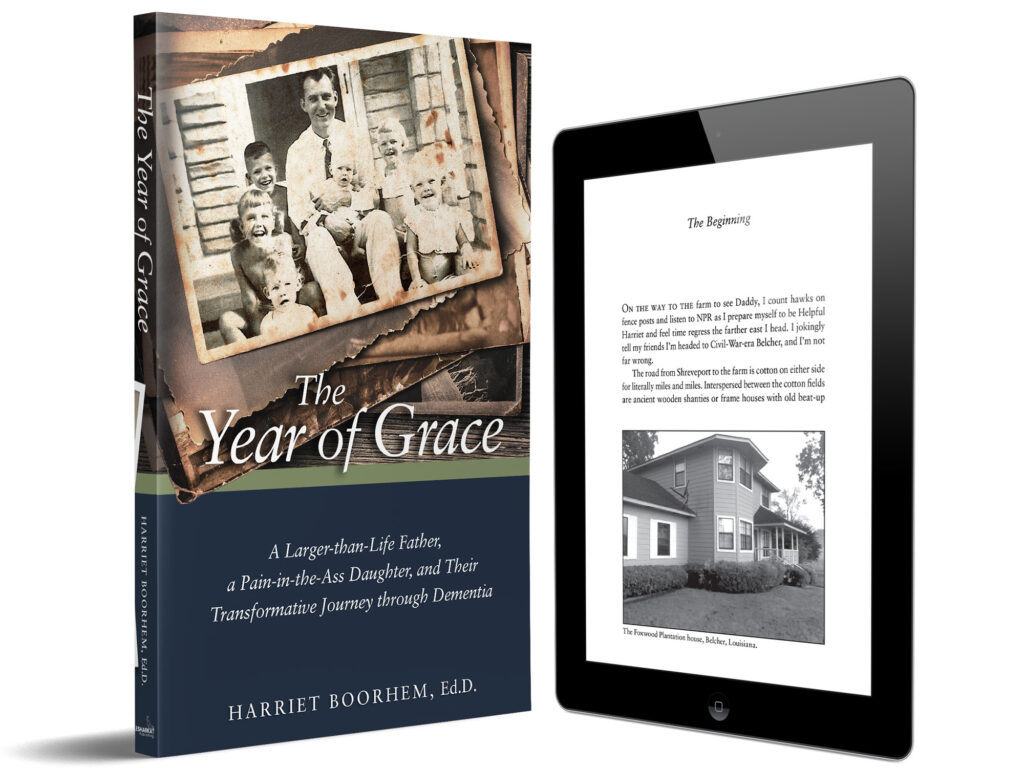 We celebrated the book launch last week at the historic Turner House in Dallas, Texas. It was in honor of the tenth anniversary of her father's death. And true to her memoir, Harriet shared excerpts with friends and family that filled the room with laughter and tears. She honored her father well.
Have you ever wondered what it takes to publish a memoir? It's a profound journey for which memoir coach Marion Roach Smith gives counterintuitive advice. She says, "Pack light." 
So let's unpack five common myths about writing and publishing a memoir and ditch some incorrect assumptions about the genre. When you "pack light," you tell a worthy story to the world and leave a legacy.
Memoir Myth #1: Writing a memoir is like writing an autobiography. 
The words are often used interchangeably, but autobiographies and memoirs are different. 
An autobiography is a comprehensive account of a person's life. From birth to later years, it's written in chronological order by that person. Because it's such an expansive view, nearly all my clients who have published their autobiographies are older and retired. 
Similarly, a biography is a comprehensive account of a person's life but written by someone else. 
A memoir is much more narrow in its focus. It reflects on a singular theme, event, or period of time in a person's life. It's more about personal growth, a particular challenge, or a significant experience. The Year of Grace is a memoir because, although Harriet talks about other time periods, her primary focus is on her father's final years with dementia.
Smith sums up memoir well: "You're not taking your readers on a world cruise for the rest of their life. You're just giving them an 'aha.'"
Memoir Myth #2: Authenticity in memoir means airing dirty laundry.
Authenticity is critical in memoir. Your story will only resonate with readers if it's genuine and honest, told in your voice from your unique perspective. 
But Jennifer Rizzo, a memoir ghostwriter for The Writers for Hire, says authenticity is a common challenge. She says, "It's easy for my clients to write out factual details about their lives, but many struggle with capturing the emotional aspects of events. What makes memoirs so great is that readers get to briefly experience the world through your eyes. Without those emotional details, memoirs can easily become dry and boring to read."
And there's a balance between being honest and exposing every intimate detail. It's important to respect the privacy and feelings of others in your life. Harriet toes the line well in The Year of Grace. While she captures both positive and negative aspects of her larger-than-life father, her memoir is ultimately a tribute to him. It's a testament to her healing and transformation.
Memoir Myth #3: You need to get every detail right.
You may feel pressure to recall every detail about events. But our memories are fallible. It's unrealistic to expect perfect recollection. 
Marie Hasty, a ghostwriter for medical thought leaders, advises turning to nearby resources for help. "When we're fleshing out a foggy story or anecdote, I ask clients to talk to the people who shared the experience. Those conversations can spark lost recollections and give fresh perspectives. Looking at old photo albums, or even social media posts, can help too," she says.
And keep in mind that what makes the genre unique is not the facts. Writing a compelling memoir is about your personal interpretation of events, emotions, and lessons learned. 
Marie says, "At the end of the day, the client and I might fill in some details as they felt they happened, like how the weather was on a certain day or the exact phrasing of a conversation. With most memories, it's more important to stay faithful to the feeling of the story rather than to the exact details as they happened."
Memoir Myth #4: You need to find a publisher for your memoir. 
Traditional publishing is no longer the only option for aspiring memoirists. Self-publishing is an increasingly popular and credible path for books. Self-published authors retain control of creative freedom, timelines, and royalties.
You may recognize these three famous authors who self-published – you can read more about their self-publishing here.
Rich Dad, Poor Dad,

by Robert Kiyosaki

The Joy of Cooking,

by Irma Rombauer

𝘛𝘩𝘦 𝘗𝘦𝘳𝘴𝘰𝘯𝘢𝘭 𝘔𝘦𝘮𝘰𝘪𝘳𝘴 𝘰𝘧 𝘜𝘭𝘺𝘴𝘴𝘦𝘴 𝘚. 𝘎𝘳𝘢𝘯𝘵, by Mark Twain
There are pros and cons to each publishing path, so it's important to explore all publishing options. For The Year of Grace, Harriet chose the path that aligned with her goals and resources. 
You can read more about four paths to publishing here. You can also schedule a complimentary 20-minute consult with me to find out which type of publisher is right for you.
Memoir Myth #5: Memoirs are for famous people.
The ghostwriter behind Prince Harry's memoir, Spare, talked to The New Yorker recently about the value of writing a memoir. He said, "If you don't speak your emotions, you serve them, and if you don't tell your story, you lose it."
Easy for him to say, considering his client is a member of the British royal family. The debut of the tell-all resulted in 1.43 million copies sold, the largest first-day sales for any nonfiction book ever published by the world's largest publisher.
But you don't have to be a celebrity or public figure for your story to be worth telling. In The Year of Grace, Harriet wanted to share her deeply personal and transformative journey. Memoirists simply want to leave a legacy.
Rizzo says, "When you're writing a memoir, you're able to capture small details about your life that you may never have had the chance to share with others. You also capture your experiences from your perspective, so even the loved ones who were present during a particular event get to see a different take on it or get to learn how you were uniquely affected by the event."
Of course, even a compelling story is not exempt from the need for book marketing. If you want your memoir to impact people beyond your network – and if you're not a member of the royal family – it's important to work with your publisher to make your manuscript as marketable as possible. Define your target audience. Develop the universal themes, big takeaways, practical tips, and helpful resources that will appeal to your readers. Then implement a marketing campaign that reaches your ideal readers.
Conclusion 
If you're considering writing and publishing your memoir, remember these five tips. Narrow your focus and be authentic but respectful. Release the expectation for perfection and research the right type of publisher for you. Know that your story is worth telling – even if you're not famous.
While each story is unique, every memoirist agrees: Publishing your memoir is worth it. 
"The most rewarding part of writing a memoir is when my clients are able to share the final product with their loved ones," says Rizzo. "I have ghostwritten many different memoirs and family history books, and all of my clients have remarked on how great their experiences were when they shared their finished books with their family members. It's a beautiful way to share your life."
Congratulations, Harriet!