You may know Mary A. Pérez as the author of Running in Heels: A Memoir of Grit and Grace, her incredible true story of survival and forgiveness against all odds.
If you don't, then let us fill you in. Somewhere between stealing cold cuts from stray cats and watching a stranger leave her mother's bed after breaking in through their bedroom window, Mary figured out that her family was dirt poor. Worse than her empty stomach, she was hungry for acceptance and love in the shadows of her mother's choices and on through an abusive marriage.
Running in Heels: A Memoir of Grit and Grace is Mary's promise of hope for anyone who was abandoned as a child, for anyone who woke up hungry and went to bed hungrier every day, and for every wife who has loved a husband who left bruises on her heart and on her body.
We've just released her 412-page second edition in print, e-book, and audiobook, updated with more information and packed with discussion questions for book clubs. In this author interview, Mary Ann tells us what happened when she kicked open her past for the world to read – and what her family really thinks about the book.
Q: Mary Ann, the dedication page to your mother is one of the best we've read: "To Mama, in wanting to be better, do better, and become wiser, I realized that I had a lot to learn and am not without my own share of flaws. You did the best you knew to do. It can't be all bad—just look at me now. I love you then, I love you now. Forever your little girl." It's even more meaningful after reading your book. How does your mother feel about your book today? And how did you decide how much to reveal about her and the other important people in your life?
My mother loves the book. She's very proud of me.
But when my mother first found out that I'd be writing my autobiography, she asked, "Will you blame me for everything?"
I told her, "No. No, I will not."
You see, this was never about airing our dirty laundry. I have no vendetta. There's no value in bitterness.
When I began writing, I had already reached a point of healing and forgiveness. It took work, but that's the only reason I was able to put my raw memories to paper – especially those memories that had me sobbing. I couldn't have written them without inner healing.
The reason I reveal certain details is so that my readers can understand my mother's frame of mind. She was child-like, both mentally and emotionally. Our roles have always been reversed.
But the writing process was humbling. It was easy to write about my mother during the years that I was a child. However, the writing became harder as I wrote about my teenage years. That's when I started making my own choices – and my own mistakes.
I don't have the answers to it all. But I do know this: My mother loved me in her own way. And I love her.
Q: How has your autobiography affected other people?
My children couldn't wait to finally get the book and read it. They loved it. And they loved actually being able to hear our family's voices across the pages.
The more surprising thing is the reaction of strangers. When I wrote my story, I hoped that the hardships I'd experienced counted for something, but I wasn't certain. I'm discovering that people are so receptive. They tell me that they are touched and inspired.
Their reaction touches me. Once upon a time, I felt ashamed. I felt that I wasn't good enough, that I wasn't worthy. But today I have a voice. I am better and stronger.
Q: What is your message today?
I want people to know that no matter what life dictates, you don't have to be a product of your environment. You can do better, be better.
Yes, you may face hard knocks, but you don't have to drown in them. Don't blame your lack of education or lack of money. Don't allow bitterness into your heart. You can overcome these things.
Surround yourself with people who lift you up. I was blessed to meet a man who did not see my failures. He saw me as a strong, independent woman. And that's who I've become today.
Q: What advice do you have for others who are considering writing about their own lives?
I have three pieces of advice.
First, jot down your memories – whatever comes to mind. You can analyze them and add details later. Just get them down first.
Second, know that you will eventually need proofreading and editing.
Third, be true to yourself. Don't let others try to change your story to make it more sensational. Everyone has a voice, and your story is enough.
Thank you for your honesty and insight, Mary Ann! To find out more about Mary Ann and her book, we invite you to:
Check out the book announcement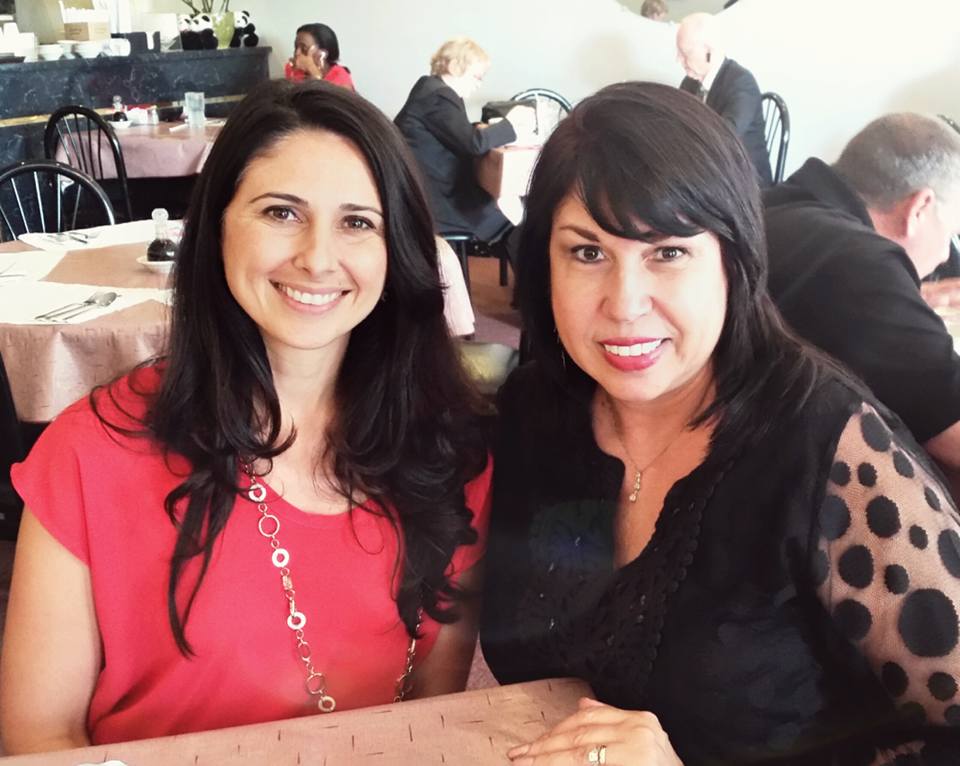 Ella Ritchie (pictured left) is the founder of Stellar Communications Houston, a business communication and book publishing team that serves nonfiction authors, business leaders, nonprofit organizations, families, and federal government agencies.  Connect with her on LinkedIn or Facebook, or check out the website for more information.
Mary A. Pérez (pictured right) is a first-time author of Running in Heels: A Memoir of Grit and Grace. She was born in the Bronx, raised in Miami, and now resides in Texas. Of Puerto Rican descent, she is blessed to be the mother of four grown children, "Mimi" to two gorgeous grandchildren, and wife (the second time around) to a phenomenal man for more than twenty years. Contact Mary to book a speaking event, book club presentation, or book signing.