We're celebrating John R. Gammino's new release, The Love We Knew. In it, the former high school football star tells how everything changed with the stunning news of a teen pregnancy and the anguish and trauma of separation and a forced adoption. Today, sixty years later, John looks back on the loss and reveals what happened to the couple and their baby.
His release involved three different printers (and lots of coffee). The slightly different tones of the front covers are hints that different printers were used.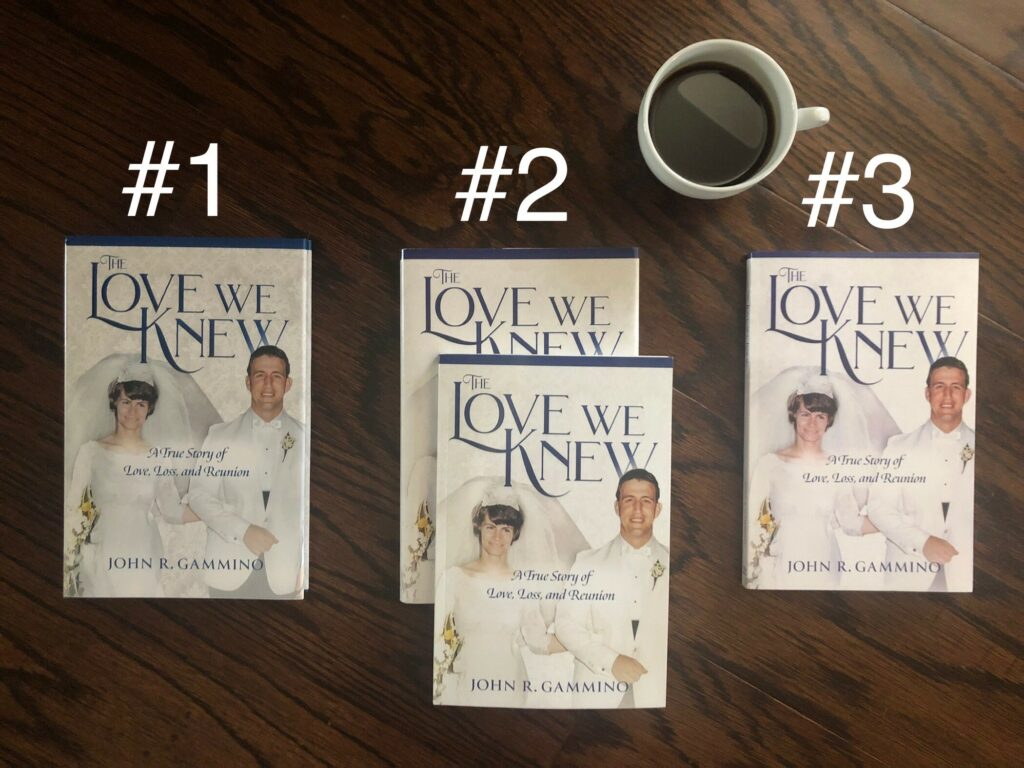 But why would we use three different printers for the same book?
Good question! We use different printers to accomplish different goals for an author.
John had two goals in mind: First, he wanted to publish an elegant keepsake for his family and close friends. Second, he wanted to distribute his book worldwide so that others could benefit from his story of unconditional love and lasting resilience.
Let's take a look at the purpose, pros, and cons of each printer.
#1 The first copy was produced by an offset printer.
An offset printer is great for quality. It's expensive because it's a custom process that offers unlimited creative options. You can choose from an exciting array of book sizes, paper stocks, bindings, and finishing touches. After feeling the silky 100# paper, one author called it the "Cadillac" of printers.
The level of service is awesome, too. I appreciate the personal attention each offset order receives. (Shout out to Valerie, Christine, and the rest of the team at Advanced Print and Finishing. They patiently answer *all* of my questions and meet every crazy deadline.)
The offset printer was perfect for producing John's elegant keepsake. We printed 100 hardcovers for John's inner circle of family and friends.
#2 The second set was produced by an on-demand printer.
An on-demand printer is great because it's truly "on demand." It allows you to order copies as needed, whether it's 1 or 1,000.
The quality and creative options fall short of an offset printer. For example, the automated process restricts paper quality to 50# or 70# and limits trim sizes.
But the advantage that on-demand printers have over offset printers is distribution. Gone are the days when authors relied on traditional publishers as gatekeepers who invested heavily in inventory. Today, on-demand technology is changing the game because it allows self-published authors to distribute books independently. You can fulfill orders globally *without* inventory and *without* lifting a finger. Incredible!
John wanted to make a hardcover and paperback available for purchase beyond his family and friends, so we chose IngramSpark as his on-demand printer. It's the best in the business. IngramSpark prints hardcover and paperback books and distributes them to more than 40,000 retailers, bookstores, and libraries worldwide, including online at Amazon and Barnes and Noble.
#3 The third copy was produced by another on-demand printer.
And not just any on-demand printer. It was printed by KDP, the on-demand printer at Amazon.
There are two main reasons I recommend KDP, and both have to do with the fact that Amazon is the reigning retail giant.
First, KDP ensures that your book appears on Amazon. Amazon has complete control over its site, including the prerogative to add or remove books whenever it wants. And because its algorithm changes hourly, there are times when books randomly disappear from the site. No explanations, little recourse – it just happens. The solution is to distribute your book directly through KDP. Amazon is much more responsive when your book is its product and from its printer.
Second, KDP allows access to Amazon's proprietary marketing tools. For example, Amazon Ads have been proven to level the playing field so that self-published authors can compete for buyers, and the only way to run an Amazon Ad campaign for your book is to distribute directly through KDP.
There are other reasons why KDP is a good choice. Its platform is easier to navigate for self-published authors than that of IngramSpark. And its author copies are often less expensive.
You might be wondering . . .
Why can't KDP be the sole on-demand printer?
It can be, and many authors do that. But for most of my authors' goals, KDP is better paired with IngramSpark.
One reason is that KDP's hardcover options are too limited for now. If you want a hardcover, IngramSpark is the better printer for that format. That's why John is printing just his paperback through KDP. His buyers aren't aware of this behind-the-scenes decision – they see both his hardcover and his paperback on Amazon and can buy either format.
A bigger reason to pair KDP with IngramSpark is professionalism. Amazon is a great place for your readers, but it's not suitable for other players. After all, Amazon is a retailer that's competing for market share. So other retailers and bookstores won't appreciate or take you seriously if you direct them to Amazon to place orders. They want to work with a reputable industry distributor like IngramSpark. They do *not* want to bolster Amazon, their biggest competitor.
So which is the best printer for you?
You don't have to use three printers for your book like John did for The Love We Knew. You can use one, two, or more. The best printer for your book depends on your goals. Get clear on what you want, and your best printer(s) will become clear!